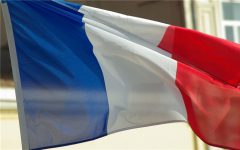 23 March, 2017

Hans-Jørgen Brodersen and Marie-Louise Arnfast from Hydrogen Valley presented the HyBalance project to a French delegation, whose visit was arranged by Invest in Denmark
13 February, 2017

Hydrogenics Europe hosted the Factory Acceptance Ceremony of the HyBalance 1.2 MW PEM electrolyser in Oevel, Belgium. See pictures and presentations from the event here.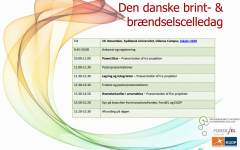 10 November, 2016

Lasse Helleskov Ravn, Neas Energy, presented the HyBalance project at the "Danish Hydrogen and Fuel Cell Day" in Odense, Denmark.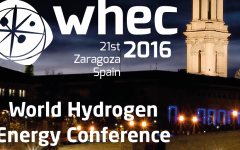 13 June, 2016

Jan Vaes, Hydrogenics, presented the HyBalance project at the "21st World Hydrogen Energy Conference 2016″ in Zaragoza, Spain.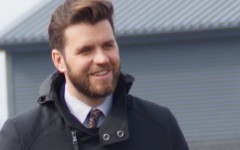 8 June, 2016

Bruno Forget, CHN, presented the HyBalance project at the roundtable-event "Hydrogen2Storage & Transport in Denmark" in Copenhagen, hosted by the Ministry of Foreign Affairs of Denmark.
16 April, 2016
Lars Udby, CEO of Hydrogen Valley, presented the HyBalance project at the event: 'Excess power – what to do with it?' Eighty professionals from the energy sector in the Northern region of Denmark participated in the event. See the presentation (in Danish).
12 April, 2016
Lars Udby, CEO of Hydrogen Valley, presented the HyBalance project at the annual meeting of the Danish Partnership for Hydrogen and Fuel Cells. See his presentation.
4 April, 2016
Danish Minister cut first sod
On 4 April, 2016, the Danish Minister for Energy, Utilities and Climate, Lars Chr. Lilleholt cut the first sod for the facility that will deliver hydrogen from 2017 as part of the HyBalance project.
The facility is to be located near Hobro in northern Denmark.
At the event, the minister said: "Hydrogen is one of the technologies which we will focus on in the future. I am therefore very pleased that Denmark, with this facility, is positioning itself at the forefront. We will be able to show that we are leading the way. That this not just talk but no action, but something that is taking place in the real world".
The event was also attended by the Mayor of Mariagerfjord Municipality, Mogens Jespersen, who said: "This facility will be very important, and we have already received requests from other companies, who are interested in relocating in the same area solely because of the location of the coming hydrogen factory. It will mean a great deal for us. This is just the beginning of something really big."
Lars Udby, CEO of the Danish partner Hydrogen Valley, thanked Air Liquide and the other partners in the project as well as FCHJU and Energinet.dk for helping realise the project, which has been underway for almost three years. 
See media coverage from TV2 Nord and Nordjyske.dk (both in Danish)